WW-03, VWW-08 NordV-02, -03, -04, -06 SV-02, -05, -06, NV-01, -03, -07 FinV-05
Intuch Norduch Such Finuch Nuch DKuch BIS & SBIS winner
Antefa´s Minas Tirith
1999-07-21 – 2010-10-07
 " Tirith "
Min älskade faraohund är borta! Han fick somna in i sin favoritbädd här hemma!
Han vilar nu bredvid min första hund, Knyttis vid bua!
BIS- final 2003 Avesta SKK all breed show:
Photo Rika Fujita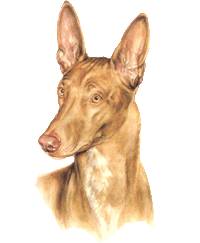 Painting of Tirith
He even has 6 Swedish CC and
14 CACIB.
He is Norweigan Winner 2001,
Nordic winner 2002, 2003, 2004 and Swedish winner 2002.
He started 2003 with a new titel: WW-03.
Tirith was reserv-best dog with
reserv-CC at Cruft´s 2002.
That give him qualification to Cruft´s for ever.
2006 was he BOB on Cruft´s!!
He ended the 2002 with BOB at
Stockholm Int. show with Swedish winner titel.
He also ended 2003 with BOB at the same show,
but with Nordic winner titel!
2002 he was top winning male in Sweden and
he ended next year as the
TOP WINNING PHARAOH 2003!!!!
He has also tried Lure-coursing and he like it a lot.
Tirith has 6 BIS-1,
(2 on SKK and 2 on sighthound special and 2 Dalecarlia),

BIS 1 Pharaoh special Judge: Jarmo Voirinen

Tirith BIS 1 SvVk Svenstavik 2005
Judge Arne Foss

BIS 1 Avesta SKK Judge Norman Huidobro Corbett Spain

BIS 1 Svenstavik SvVK Judge Nina Karlsdotter Sverige

BIS 1 Skara SKK Judge Annica Ulltveit-Moe Sverige


BIS 1 Dalecarlia most beautiful dog show!
Judge: Kenneth Edh Sverige
3 x BIS-3,
1 x BIS-4,
1 x BIS-R,
8 x BIG-1

BIG 1 SKK Stockholm Int. 2005
Judge:
38 BOB, and 19 BOS,
For more results look at news.

Here he was BIS-1 Veteran
On his last show he was World Veteran Winner!
2008

9 years old…
Photo Lotta SyvertsenNordic Winner -06 BIS-1 Veteran

Photo: Åsa Lindholm

Photo: Åsa Lindholm

Photo: Åsa Lindholm

BIG-1 on SKK INT. Stockholm 2005

Cruft`s 2006

BIS-1 Veteran Norway

BIS-1 Avesta Nat. 2003

BIG-5 SKK Int. Stockholm
BIS-1 Svenstavik SVVK 2003
BIS-1 Skara SKK 2004
WW-03 Dortmund Germany World Dog Show
WW-03 With breeder Annica Lundqvist-Hemström
Tiriths sired litter:
1
2003 – 02 – 25 "Vera"
IntCh NordCh DKCh SV-99-00 KbhV-99 NV-99
NordV-00 3xSBIS

Siphra's Tell Me No Lies


5+4
*
2
2004-03-02
"Shingi"
Such 

Siphra´s My Wild Love


4+6
*
3


2005-08-25 USA


"Phlirt"
DC Sunwinds Sovrin Scheherazade
AOM SC JOR ORC GRC ORM
2+5
*
4
2007-03-11
"Vega"
Int & S, N, DK, Fin, PL Ch. EUW-05
NordV-05 WW-06 SV-06 SBIS BIS
Enigma Surprise Me
3+5
*
5
2007-06-03
Ch. Mia-Churuka Unchained Melody


?+?